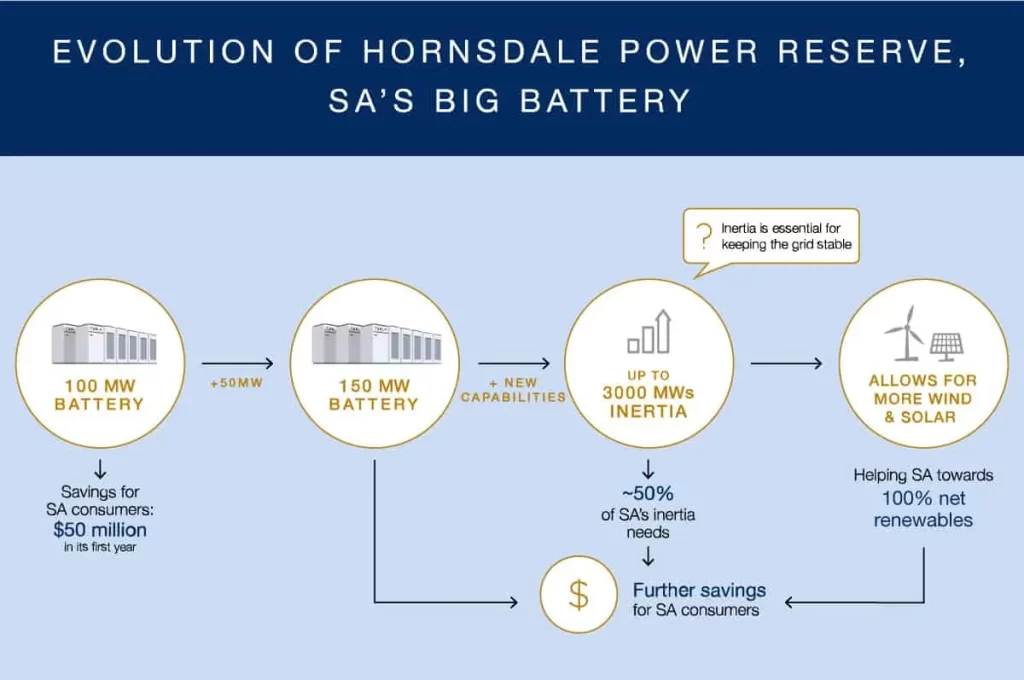 Today Neoen, together with the South Australian Government, the Australian Renewable Energy Agency and the Clean Energy Finance Corporation, announces a 50 per cent expansion of its Hornsdale Power Reserve in South Australia. The 50 MW/64.5 MWh expansion, supported by Tesla, will further showcase the complete benefits that grid-scale batteries can provide to the National Electricity Market (NEM) and Australian consumers.
The expansion will provide additional power system reliability and continued cost savings to consumers—which were more than $50 million in its first year of operation.
The expansion will also provide an Australian-first large-scale demonstration of the potential for battery storage to provide the stabilising inertia services that are critical to the future integration of renewable energy. This will ensure South Australia can continue to harvest its world class wind and solar resources and achieve its target of being net 100% renewable by 2030. It will also see the State transition to become a net-exporter of cheap and clean energy to the NEM and further drive down electricity prices for all consumers.
WHAT IS INERTIA?
As with vehicle suspension on an uneven road, inertia services are essential for stabilising the grid when electricity supply and demand fluctuate. The expanded 150 MW Hornsdale Power Reserve will be upgraded with Tesla's Virtual Machine Mode, which allows the advanced power inverters to emulate the existing inertia services being supplied by an ageing fleet of fossil fuel power plants. The level of inertia that would be provided by HPR could match half of the total needs of South Australia.
This Australian-first battery technology will trial responding to supply fluctuations by automatically and rapidly charging and discharging. By imitating the behaviour of the existing fossil fuel-based services, the Hornsdale Power Reserve can arrest any grid frequency deviations through a clean and regenerative substitute.
The Australian Energy Market Operator has identified that the South Australian grid requires 6,000 megawatt-seconds (MWs) to maintain a secure operating level of inertia. It is anticipated that Hornsdale Power Reserve as expanded could provide up to 3,000 MWs of inertia.